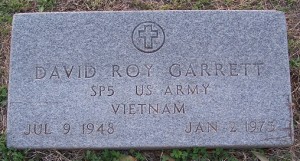 MM. Location: U-Baker
Born: July 9, 1948 Baylor County, Texas
Died: January 2, 1973 Near Van Horn, Culberson County, Texas
Son of Donald Roy Garrett and Barbara Lou Ann Bingham Garrett
Parents:
Donald R Garrett (1926 – 1974)
Barbara Louann Bingham Garrett (1930 – 1959)
He was a student at the University of Texas and died when his car hit an icy road and overturned.
David Garrett, 24, of China Spring died Tuesday morning in an automobile accident near Van Horn.
He is survived by his parents, Mr. & Mrs. Roy D. Garrett; son, David Allen Garrett of Austin; paternal grandmother, Mrs. Attie I Garrett; four sisters, Mrs. Cynthia Marie Huebner, Miss Sharon Dean Garrett, Miss Karen Sue Garrett and Airman Billie Rhea Barber, USAF, McGuire AFB, NJ; three brothers, Donald Brady Garrett, Richard Bryan Garrett and Thomas Eugene Barber.