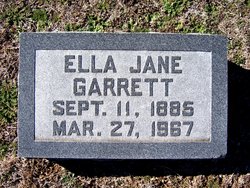 Location: I-Jackson
Born: September 11, 1885 Valley Mills, Bosque County, Texas
Died: March 27, 1967 Waco, McLennan County, Texas
Parents:
Edwin Wesley Adams (1840 – 1903)
Caroline Matilda Oglesby Adams (1848 – 1918)
Spouse:
Thomas Dee Garrett (1878 – 1958)
Children:
Wesley Dee Garrett (1906 – 1958)
Mrs. R. Dee (Ella) Garrett of Waco died Monday morning in a local hospital.
Mrs. Garrett was a daughter of the late Rev. & Mrs. E. W. Adams. Her father was a circuit rider Methodist minister before his death.
She was born, reared and educated at Valley Mills. She married T. Dee Garrett of China Spring on January 28, 1906. They live in China Spring until his death in December of 1958.
Mrs. Garrett was a member of the China Spring Methodist Church for more than 50 years and was active in church and Sunday School work. After she moved to Waco, she became a member of Herring Avenue Methodist Church.
Surviving are two daughters, Mrs. C. B. (Nadine) Harmon of Waco and Mrs. J. W. (Maxine) Batts of Bryan; son, F. N. Garrett of Fort Worth; sister, Mrs. W. T. (Leatha) Harris of McLean, Virginia; brother, Arthur Adams of Houston; four grandchildren and two great-grandchildren.