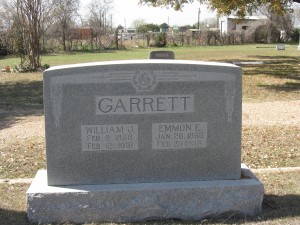 Location: E-Burt
Born: January 26, 1855 Springfield, Greene County, Missouri
Died: February 25, 1938 Erath, McLennan County, Texas
Daughter of A. J. and Frances Weisner Marley
Parents:
J A Marley (1824 – 1910)
F A Marley (1826 – 1896)
Spouse:
William Joshua Garrett (1858 – 1931)
Children:
Roscoe Owens Garrett (1884 – 1966)
Daniel Tay Garrett (1886 – 1970)
W. C. Garrett (1888 – 1918)
Theofolis Parvin Garrett (1895 – 1985)
Funeral services for Mrs. W. J. Garrett, who died Friday evening at her home at Erath, will be held Sunday at 2 p.m. from Erath Baptist Church, Rev. M. L. Rhodes and Rev. E. E. Bennett officiating, burial in China Spring Cemetery.
Mrs. Garrett, who was born in Springfield, Missouri, came to this county about 70 years ago.
Surviving are three sons, R. O. Tay, and T. P. all of Erath; two sisters, Mrs. Lena Harper of Erath and Mrs. Kate Beaver of Borger; one granddaughter, Mrs. Ben Roberts of Erath.