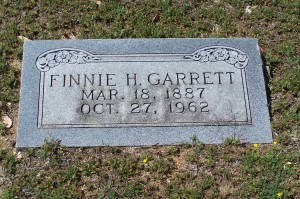 Location: J-Payne
Born: March 18, 1887 Erath, McLennan County, Texas
Died: October 27, 1962 Waco, McLennan County, Texas
Parents:
Daniel Thomas Garrett (1853 – 1928)
Marjorie Missouri Turman Garrett (1859 – 1942)
Spouse:
Clara Alberta Talbert Garrett (1892 – 1914)
Children:
Rolla C Garrett (1912 – 1967)
Funeral services for Finnie Hugh Garrett of Route 10, Waco, willbe at 2:30 p.m. Monday in China Spring Baptist church.  Rev. Paul G. Smith, Rev. Carl Jones and Rev. J. D. Buhl will officiate with burial in China Spring Cemetery.
Mr. Garrett died at 7:30 a.m. Saturday in a Waco hospital.  He was 75.
Mr. Garrett was a retired farmer in the Erath community.  He was a well-known fisherman.
Surviving are one son,  Rolla C. Garrett of Temple; two brothers, Dan G. Garrett of Route 3, Waco, and Thomas J. Garrett of Tennessee; two sisters, Mrs. T. C. Morgan of 1805 Trice Avenue and Mrs. William T. Grayson of China Spring.