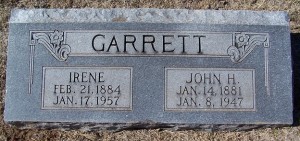 Location: A-Talbert
Born: February 21, 1884 Hill County, Texas
Died: January 17, 1957 China Spring, McLennan County, Texas
Wife of John Howell Garrett
Parents:
James M. Dillard (1853 – 1929)
Tressie Louise McClendon Dillard (1859 – 1943)
Children:
Willie Garrett (1903 – 1962)
Emmett Garrett (1904 – 1941)
Johnnie Brown Garrett (1906 – 1970)
Joe Donald Garrett (1913 – 1991)
Maurine Garrett Talbert (1916 – 1993)
Marietta Garrett Matkin (1919 – 1996)
Funeral services for Mrs. Irene Garrett, 72, of China Spring were at 3 p.m. today at China Spring Baptist Church, Rev. Earl Vanderbilt officiating, burial in China Spring Cemetery.
She died Thursday morning in a local hospital.
Mrs. Garrett had lived in China Spring most of her life. She was born in Hill County and was a member of Rock Creek Baptist Church.
Survivors: three sons, Willie Garrett, Johnny Garrett, and Joe Garrett; two daughters, Mrs. J. S. Matkin of Waco and Mrs. J. J. Talbert of China Spring; three brothers, Will Dillard of California, Frank Dillard of Stamford and Joe Dillard of Abilene; five sisters, Mrs. W. E. Miles of Stamford, Mrs. Sadie ??? of Stamford, Mrs. Wanda Clark of Wichita Falls, Mrs. Viola ??? of ??? and Mrs. Lillie White of Oklahoma; 13 grandchildren.