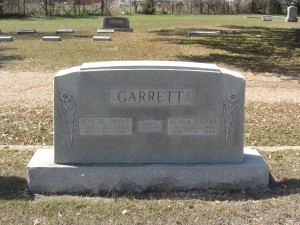 Location: E-Burt
Born: June 25, 1892 Erath, McLennan County, Texas
Died: April 3, 1980 Waco, McLennan County, Texas
Parents:
John David Rogers (1864 – 1953)
Freddie Morton Rogers (1874 – 1951)
Spouse:
Roscoe Owens Garrett (1884 – 1966)
Children:
Frances Ruth Garrett Roberts (1917 – 2009)
Mrs. Lenna Garrett, 76, of China Spring, died Thursday in a local hospital.
Services will be 11:30 a.m. today (Saturday, April 5, 1980) at the China Spring Baptist Church, the Rev. Bob Wimberly and Dr. Cyrus Barcus officiating. Burial will be  in China Spring Cemetery.
Mrs. Garrett was born in Erath, where she attended school. She married R. O. Garrett in 1909. She was a Baptist.
Survivors: daughter, Mrs. Ben H. Roberts; three sisters, Mrs. A. S. Cochran of Axtell, Mrs. J. H. Gibbs and Mrs. Leo A. Yankee, both of Waco; one grandchild.