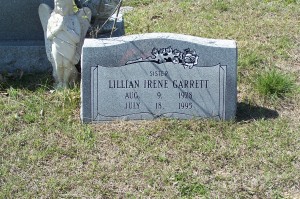 Location: K-Jay
Born: August 9, 1928 China Spring, McLennan County, Texas
Died: July 18, 1995 Waco, McLennan County, Texas
Parents:
Emmett Garrett (1904 – 1941)
Ruby Lee Reid Garrett (1908 – 1935)
Irene Garrett of China Spring, a teacher, died Tuesday at a local nursing home. She was 66.
Graveside services will be at 1 p.m. Thursday at China Spring Cemetery, the Rev. Earl Lenting officiating.
Miss Garrett was born August 9, 1928 in China Spring. She received her bachelor's and master's degrees from the University of Texas at Austin. She was a teacher for more than 25 years, most of it at Mercedes High School in Mercedes. In Mercedes she was chairman of the social studies department and directed the school choirs, musicals and civic and school drama productions. She was a member of First Baptist Church of China Spring, where she was church clerk, Sunday School teacher, mission worker, soloist, pianist and youth director. She was also a member of the Association of Retired Teachers, Association of Texas Professional Educators, Ex-Student Association of the University of Texas, National Council for Social Studies, Life Member of Texas State Teachers Association and Delta Kappa Gamma Sorority.
Survivors include an aunt, Ruby Garrett of China Spring, who reared her; three brothers, Jon Emmett Garrett, Bobby Odell Garrett and Vernon Eugene Garrett.