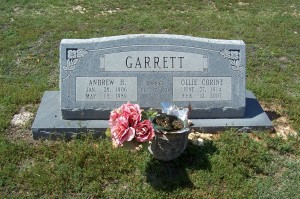 Location: G-Ferguson
Born: June 27, 1914 China Spring, McLennan County, Texas
Died: February 12, 2007 Waco, McLennan County, Texas
Parents:
Carl Otis Crawford (1891 – 1959)
Henrietta O Drahn Crawford (1894 – 1976)
Spouse:
Andrew H Garrett (1906 – 1989)
Children:
Martha Nanette Garrett Burt (1936 – 2007)
Corine Garrett of Waco, passed into our Savior's arms on Monday, Feb. 12, 2007.
Graveside services will be 11:30 a.m. Wednesday, Feb. 14, at China Spring Cemetery with the Rev. Allen Grant officiating. Visitation will be from 6 to 8 p.m. Tuesday, Feb. 13, at Wilkirson-Hatch- Bailey.
Corine was born June 27, 1914, in China Spring, to Carl and Henrietta Crawford. Mrs. Garrett has been a lifelong Methodist and was the oldest living member of China Spring United Methodist Church at the time of her death. She was a guiding light for the youth of China Spring as a Sunday school teacher, a tireless member of the PTA, Civic Club and UMW. She was an active part of getting water and electricity to rural China Spring. She was a rural route mail carrier for many years.
Nanny loved entertaining, cookouts and camping on the banks of the Bosque. She loved her God, her church, her family, community and we cherished her. Her accomplishments touched many lives. She lived her life with grace.
She was preceded in death by her parents; her sisters, Wynona Carpenter, Oleta Wallen and Dorothy Talbert; and brothers, Lorhan Crawford and O.C. Crawford.
She is survived by her daughter, Nanette Burt and husband, Allison of China Spring; son, Jerry Garrett and wife, Bonnie of China Spring; brother, Billie Mac Crawford and wife, Lula Bell of Whitney; grandchildren, Arlene Zacharias, Cindy Taggart, Sherri Chmelar, Connie Hooks and Layton Wayne Garrett; 10 great-grandchildren; and five great-great-grandchildren.