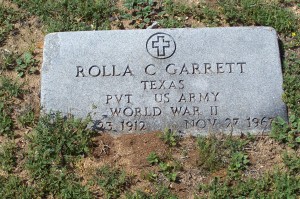 Location: J-Payne
Born: June 23, 1912 Waco, McLennan County, Texas
Died: November 27, 1967 Temple, Bell County, Texas
Son of Finnie Hugh and Clara Alberta Talbert Garrett
Parents:
Finnie Hugh Garrett (1887 – 1962)
Rolla C. Garrett, 55, of Temple, died at 5 a.m. in a Temple hospital after a short illness.
Funeral services will be at 10 a.m. Wednesday in China Spring Baptist Church, Rev. Carl Jones and Rev. Paul Smith will officiate with burial in China Spring Cemetery.
Mr. Garrett was born in Waco and made his home in McLennan County most of his life. He had lived in Temple for the past seven years. He was past commander of the DAV and a veteran of World War II. He was a member of the American Legion of Temple and the Christian Church.
In 1961 he married May Turner of Temple.
Survivors include his wife; two step-sons, Billy Turner and Tommy Turner, both of Temple.