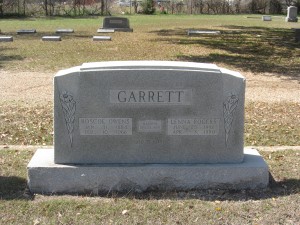 Location: E-Burt
Born: January 31, 1884 Gholson, McLennan County, Texas
Died: February 10, 1966 Waco, McLennan County, Texas
Son of William Joshua and Emmon Marley Garrett
Parents:
William Joshua Garrett (1858 – 1931)
Emmon Eliza Marley Garrett (1855 – 1938)
Spouse:
Lenna Rogers Garrett (1892 – 1980)
Children:
Frances Ruth Garrett Roberts (1917 – 2009)
R. O. Garrett of Waco died Thursday morning in a local hospital. He was 82.
Funeral services were at 1 p.m. today in the China Spring Baptist Church with Rev. A. M. Stone and Rev. Paul Smith officiating. Burial was in China Spring Cemetery.
Mr. Garrett was born in Gholson and attended school at Battle. He married the former Lenna Rogers at Erath in 1911. Mr. and Mrs. Garrett lived in Erath until 10 years ago. They moved to Waco in 1964.
Survivors, his wife; daughter, Mrs. Ben H. Roberts; two brothers, Tay Garrett and T. P. Garrett, both of China Spring; one grandchild.