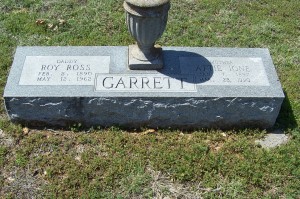 Location: G-Ferguson
Born: February 2, 1890 China Spring, McLennan County, Texas
Died: May 12, 1962 Waco, McLennan County, Texas
Parents:
Andrew H. Garrett (1840 – 1916)
Nannie Sarah Ross Garrett (1860 – 1951)
Spouse:
Attie Ione Maddux Garrett (1897 – 1990)
Children:
Albert Vernon Garrett (1917 – 1997)
Dorothy Hortense Garrett Brown (1923 – 1972)
Donald R Garrett (1926 – 1974)
Roy R. Garrett, 72, of China Spring died Saturday morning in a local hospital.
Funeral services will be held at 11 a.m. Monday at Methodist Church of China Spring, Rev. Billy Mack Patterson officiating, burial in China Spring Cemetery.
Survivors: his wife, daughter, Mrs. Dorothy Brown of Littlefield; two sons, A. V. Garrett and Donald Garrett; sister, Mrs. Neil Harris of Stephenville; brother, A. H. Garrett; 10 grandchildren.