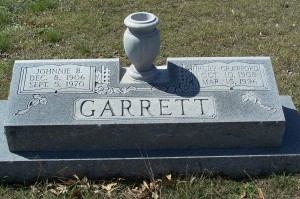 Location: K-Jay
Born: October 10, 1908 China Spring, McLennan County, Texas
Died: March 15, 1996 Waco, McLennan County, Texas
Parents:
Richard Lorahn Crawford (1868 – 1951)
Martha Ellen Jay Crawford (1870 – 1945)
Spouse:
Johnnie Brown Garrett (1906 – 1970)
Ruby Crawford Garrett, age 97 of China Spring, died Friday in a local nursing home. Graveside service at 3:30 p.m. Saturday at China Spring Cemetery, with Rev. Earl Lanting officiating.
Born October 10, 1908, in China Spring. She married Johnny B. Garrett on November 6, 1927. He died in 1970. She was a member of First Baptist Church in China Spring where she taught Sunday School and was active in Womens Missionary Society.
Survivors include two sisters, Ethel Smith of China Spring and Jimmie Ruth Golding of Hewitt; and nieces and nephews.