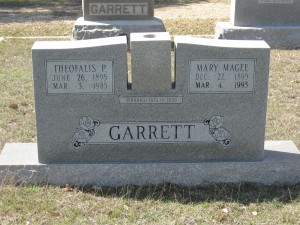 Location: E-Burt
Born: June 26, 1895 Battle, McLennan County, Texas
Died: March 3, 1985 Waco, McLennan County, Texas
Parents:
William Joshua Garrett (1858 – 1931)
Emmon Eliza Marley Garrett (1855 – 1938)
Spouse:
Mary Magee Garrett (1893 – 1993)
T. P Garrett, 89, of China Spring, died Sunday at a local nursing home.
Services will be 1 p.m. Tuesday at First Baptist Church in China Spring, the Rev. Charles Wilson and the Rev. Terry Nelson officiating. Burial will be at China Spring Cemetery.
Mr. Garrett was born June 26, 1895 in McLennan County. He had lived in the area all of his life. He was a farmer and a McLennan County deputy sheriff. He also worked as a guard for the Bluebonnet Ordnance bomber plant during World War II. He had served as an election judge in Erath. He was married to Mary M. Magee on November 18, 1938 in Waco. He was a member of First Baptist Church in China Spring.
Survivors include his wife, Mary Garrett of China Spring.