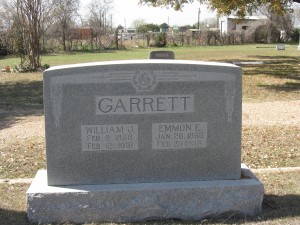 Location: E-Burt
Born: February 8, 1858 Louisiana
Died: February 12, 1931 Erath, McLennan County, Texas
Parents:
Thomas Calhoun Garrett (1836 – 1916)
Pricilla Dansby Garrett (1835 – 1900)
Spouse:
Emmon Eliza Marley Garrett (1855 – 1938)
Children:
Daniel Tay Garrett (1886 – 1970)
W. C. Garrett (1888 – 1918)
Theofolis Parvin Garrett (1895 – 1985)
W. J. Garrett, 73, died Thursday afternoon at his home in Erath. He was a pioneer of the county.
Survived by two brothers, G.W. Garrett and A.J. Garrett; three sisters, Mrs. J. H. Marley, Mrs. J. D. Marley and Mrs. J. M. Doyle; three sons, T. P., Tay, and R. O. all of Erath.
Services will be from the Erath Baptist Church with Rev. W. P. Jones officiating, Friday at 3 p.m.