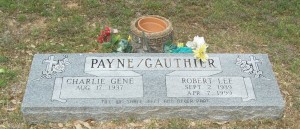 Location: R-Williams
Born: September 2, 1939 Sommerville, Massachusetts
Died: April 7, 1999 Waco, McLennan County, Texas
Robert L. Gauthier, 59 of Waco, died Wednesday, April 7, 1999 at a local hospital.
Graveside services will be at 11 a.m. Friday, April 9 at China Spring Cemetery with Chaplain Bob Painter officiating.
Mr. Gauthier was born September 2,  1939 in Sommerville, Mass., where he was reared and educated. He was a Navy veteran and had lived in Waco since 1960. He was in the antique business.
Survivors include lifelong companion Charlie Gene Payne of Waco; four sisters, Donna McCloy, Ellen McCloy, Laurie David and Debbie Klempa; four brothers, David McCloy, Jay McCloy, Kevin McCloy and Johnny McCloy.