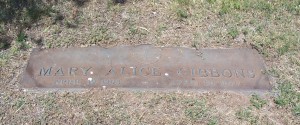 Location: H-Garrett
Born: April 19, 1908 McLennan County, Texas
Died: April 29, 1967 Houston, Harris County, Texas
Parents:
Robert Lee Kepler (1865 – 1941)
Nora Boyd Kepler (1876 – 1931)
Spouse:
Wm Reginald Gibbons (1909 – 1991)
Mrs. Alice Kepler Gibbons, 59 of Houston, died Saturday in a Houston hospital.
Funeral services were held at 9 a.m. Monday at Heights Funeral Home in Houston, Rev. Arthur Norris officiated. Burial and graveside services were at 3:30 p.m. Monday at China Spring Cemetery.
Survivors: her husband, W. R. Gibbons; two sisters, Mrs. Polly Webb of Waco and Miss Minerva Kepler of Austin; brother, Joe Kepler of Houston; brother in law, T. F. Gibbons of Waco.