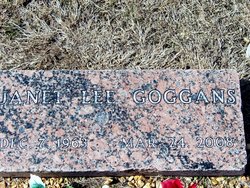 Location: W-Drahn
Born: December 7, 1963 Dallas, Dallas County, Texas
Died: March 24, 2008 China Spring, McLennan County, Texas
Janet Lee Goggans, 44, of China Spring, passed away Monday, March 24, 2008. Services will be 3 p.m. Thursday at China Spring Cemetery with Ernie Christie officiating. Visitation will be from 5 to 8 p.m. Wednesday, March 26, at OakCrest Funeral Home.
Janet was born in Dallas, Texas, to Duane and Linda (Manning) Smith. On August 19, 1982, she married Gregory Lynn Goggans.
She leaves her husband, Greg; daughters, Amanda, of China Spring, Christie, of Bellmead, and Kelli, of Waco; grandchildren, Jadee Goggans, Christopher Grinstead, John T. Buchak and Hunter D. Buchak; parents, Duane and Linda Smith, of China Spring; and brother, Ray Smith, of Lampasas.