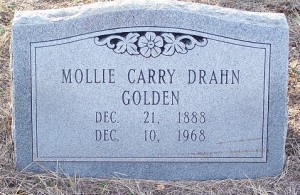 Location: P-Higginbotham
Born: December 21, 1888 McLennan County, Texas
Died: December 10, 1968 Clifton, Bosque County, Texas
Parents:
Edward Lawson Drahn (1861 – 1951)
Henrietta Brock Drahn (1867 – 1962)
Spouses:
William Henry Crawford (1876 – 1949)
Robert Lee Golden (1875 – 1948)
Jefferson Davis Gray (1882 – 1944)
Children:
Hattie Bell Gray Goar (1905 – 1973)
Charles Drahn Gray (1907 – 1990)
Carl Taft Gray (1909 – 1992)
Claude Winfred Gray (1910 – 1957)
J D Gray (1920 – 1967)
MRS. GOLDEN'S RITES ARE HELD
VALLEY MILLS
Funeral services for Mrs. Mollie Golden, 79, of Valley Mills were at Oak Grove Baptist Church here today. Rev. Carl Jones officiated. Burial was in China Spring Cemetery.
Mrs. Golden died Tuesday morning in a Clifton nursing home.
She was a native Texan and had lived the past 25 years in Valley Mills. She was a Baptist.
Survivors are two daughters, Mrs. Will Goar of Mountain-Air, N.M., and Mrs. Adolph Autry of Green River, Wyo.; three sons, Charley Gray of San Antonio, Carl Gray of Dallas and Shelby Gray of Valley Mills; three sisters, Mrs. Carl Crawford of Waco, Mrs. Maude Rogenfelt of Pampa and Mrs. Charlie Bell of Fort Worth; two brothers, W. T. Drahn of Waco and Lawson Drahn of China spring; 22 grandchildren; 25 great-grandchildren; and one great-greatgrandchild.