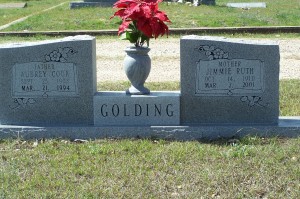 Location: K-Jay
Born: September 23, 1908 Lott, Falls County, Texas
Died: March 21, 1994 Waco, McLennan County, Texas
Son of Bolen Anthony Golding and Aurelia E. Williams Golding
Parents:
Bolen Anthony Golding (1872 – 1956)
Aurelia E Williams Golding (1879 – 1966)
Spouse:
Jimmie Ruth Crawford Golding (1910 – 2001)
Children:
Patricia Ruth Golding Donovan (1929 – 2010)
Rita Gay Golding Healer (1938 – ____)
Aubrey (A.C.) Golding, 85, of Hewitt died Monday at a local hospital.
Graveside services will be 1 p.m. Wednesday at China Spring Cemetery, the Rev. Roy Marshall officiating.
Mr. Golding was born Sept. 23, 1908, in Lott and had lived in this area his entire life. He was a longtime farmer in Spring Valley, retiring in 1985. He also worked for Bluebonnet Ordinance Plant in McGregor during World War II, and he was general manager for Dittlinger Roller Mills in Waco for more than 20 years.
He married Jimmie Ruth Crawford Nov. 24, 1928. He was a member of First Baptist Church of Hewitt for 17 years, and had been a member of Lacy-Lakeview Baptist Church.
Survivors include his wife; two daughters, Patricia Donovan of Harris Creek and Gay Healer of Waco; sister, Cathleen Bass of Mart; and three grandchildren.