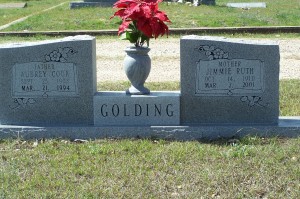 Location: K-Jay
Born: October 14, 1910 Valley Mills, McLennan County, Texas
Died: March 2, 2001 Waco, McLennan County, Texas
Parents:
Richard Lorahn Crawford (1868 – 1951)
Martha Ellen Jay Crawford (1870 – 1945)
Spouse:
Aubrey Cook Golding (1908 – 1994)
Children:
Patricia Ruth Golding Donovan (1929 – 2010)
Jimmie Ruth Golding, 90, of Waco, died Friday, March 2, 2001 in Waco. Graveside services will be at 2:30 p.m. Sunday, March 4, 2001, at China Spring Cemetery with Rev. Roy Marshall officiating. Visitation will be 6-8 p.m. Saturday at the funeral home.
Mrs. Golding was born Oct. 14, 1910, in Valley Mills, to parents Richard L. and Martha Jay Crawford. She married Aubrey Golding Dec. 14, 1928, in Waco and he preceded her in death in 1994. She was a lifetime area resident and a member of First Baptist Church of Hewitt where she belonged to the Martha Grace Sunday School Class. She was also preceded in by a son-in-law, Carl Donavan and a grandson, Bobby Ray Healer. Mrs. Golding was a devoted wife, mother, and grandmother.
Survivors include two daughter, Patricia Donavan of Waco and Rita Gay Healer and husband Allan of Waco; two grandchildren, Laurie McElhaney and husband Michael of Austin and Cecelia Gulick and husband Paul of Austin along with several nieces and nephews.