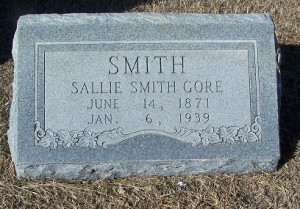 Location: L-Roberts
Born: June 14, 1871 Monroe County, Alabama
Died: January 6, 1939 Clifton, Bosque County, Texas
Parents:
William Henry Smith (1845 – 1907)
Annie Laura Simmons Smith (1851 – 1899)
Spouse: J.M. Gore
Funeral services for Mrs. J. M. Gore of Clifton, who died at her home Friday morning, will be held from the China Spring Baptist Church at 2:30 p.m. Sunday, burial in China Spring Cemetery.
Mrs. Gore, who was Miss Sallie Smith of China Spring before her marriage, had lived most of her life in that community. She came to Texas with her parents from Alabama when she was a small child.
Surviving are her husband, J. M. Gore; two sisters, Mrs. Annie Miller of Valley Mills and Mrs. J. M. Bettis of Waco; and a brother, W. W. Smith of Waco.