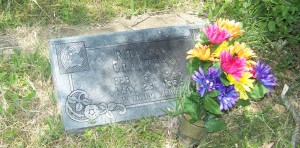 Location: T-Carpenter
Born: February 8, 1943 McLennan County, Texas
Died: May 23, 1958 Waco, McLennan County, Texas
Daughter of Richard Darrel Grantham and Margie Ruth Baker Grantham
Parents:
Margie Ruth Baker Polston (1922 – 1980)
This 15 year old girl died as a result of a fall from cliff in Cameron Park.
Rita Kay Grantham, 15 of Waco, died at 1:30 a.m. Friday in a local hospital.
Funeral services will be held at 4 p.m. Saturday at Connally Chapel, Rev. Preston Springfield and Rev. Tilson Maynard officiating, burial in China Spring Cemetery.
Survivors: her mother, Mrs. Margie Berger of Waco; her father, R. D. Grantham of Waco; two brothers, Donald Ray Grantham and Richard Theo Grantham; maternal grandparents, Mrs. & Mrs. R. B. Baker; paternal grandmother, Mrs. Willie Grantham of Waco.