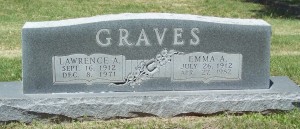 Location: U-Baker
Born: September 16, 1912 Hamilton, Hamilton County, Texas
Died: December 8, 1971 Waco, McLennan County, Texas
Parents:
Sidney A Graves (1879 – 1928)
Rosa Bell Gray Graves (1888 – 1976)
Spouse:
Emma A Brock Graves (1912 – 1982)
L. A. Graves, 59, of Crawford, died Wednesday night in a local hospital.
Funeral services will be at 1 p.m. Friday in Wilkirson and Hatch Chapel, with Rev. Carl Jones officiating. Burial will be in China Spring Cemetery.
Mr. Graves was born in Hamilton and attended school there. He moved to Waco in 1932, where he farmed and was in the dairy business.
He married Emma Brock in 1933 in Waco. He attended the Baptist Church.
He is survived by his wife; three sisters, Mrs. Lucille Brock of Valley View, Mrs. Johnnie Wright of Miles and Mrs. Pauline Ballard of Lubbock; two brothers, Bross Graves of Waco and Jack Graves of Stiles.