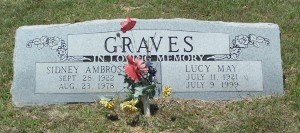 Location: U-Baker
Born: July 11, 1921 Key West, Monroe County, Florida
Died: July 9, 1999 Fort Worth, Tarrant County, Texas
Parents:
Wylie Fate Bradford (1901 – 1987)
Alta Mae Bradford (1906 – 1940)
Spouse:
Sidney Ambross Graves (1922 – 1978)
Lucy Graves Apperson, 77, of Fort Worth died Thursday July 8, 1999 in Fort Worth.
Graveside services will be at 2 pm Monday, July 12, at China Spring Cemetery in China Spring, Texas.
She was born July 11, 1921 in Key West, Florida. She was a retired department store buyer. She was employed by Cox's Department Store in Waco for 38 years.
Survivors include a daughter; Pat Robertson and husband Robert of Weatherford, Texas; a brother, Robert Bradford and wife Eldean of Waco; a grandson, Boyce Lee and wife Linda of Fort Worth; and great-grandchildren, Christopher and Subena of Fort Worth.