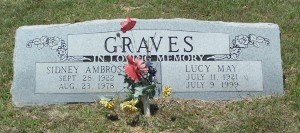 Location: U-Baker
Born: September 28, 1922 Hamilton County, Texas
Died: August 23, 1978 Temple, Bell County, Texas
Parents:
Sidney A Graves (1879 – 1928)
Rosa Bell Gray Graves (1888 – 1976)
Ambross (Curly) Graves, 55, of Waco died early Wednesday in a Temple hospital.
Services will be at 2:30 p.m. Friday at Wilkirson and Hatch Chapel, the Rev. Kenneth Boatman officiating. Burial will be China Spring Cemetery.
Mr. Graves was born and attended schools in Hamilton. He was a veteran of three years in Europe during World War II and was a member of Disabled American Veterans.
After the war, Mr. Graves worked for City Wrecking Co. 10 years and later owned his own automobile repair shop.
Survivors include his wife, Mrs. Lucy Graves; a daughter, Mrs. Pat Robertson of Fort Worth; three sisters, Mrs. Pauline Ballard of Lubbock, Mrs. Lucille Brock of Hamilton and Mrs. Johnnie Wright of Miles; brother, Jack Graves of Big Lake; and three grandchildren.