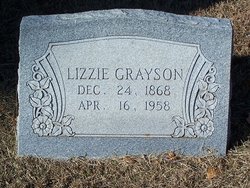 Location: C-Kennedy
Born: December 24, 1868 Tennessee
Died: April 16, 1958 Waco, McLennan County, Texas
Parents:
James Rice (1847 – 1923)
Martha S. Green Rice (1850 – 1936)
Spouses:
Ira Ellis Sapp (1860 – 1918)
Hugh R. Grayson (1868 – 1962)
Children:
Jesse Oscar Woodard (1888 – 1957)
Josie Lee Sapp (1895 – 1895)
James Evert Sapp (1896 – 1899)
Martha Lorela Sapp (1899 – 1900)
Ira Elsie Sapp (1905 – 1958)
First husband was Robert Woodard, second was Ira Ellis Sapp, and third was H.R.Grayson.
Mrs. H. R. Grayson, 89, of Merkel, Texas died Wednesday morning at the home of her son, Mr. I. E. Sapp of Waco.
Funeral services will be held on Thursday afternoon at China Spring Baptist Church, Rev. Earl Vanderford officiating, assisted by Rev. J. K. Brimm, burial in China Spring Cemetery.
Survivors: her husband, H. R. Grayson; son, I. E. Sapp; three brothers, Porter Rice of Alice, George C. Rice of Fresno, California, John Rice of Albany, Texas; two sisters, Mrs. F. M. Lawson of Lubbock, Mrs. J.J. English of Alice, Texas; two grandchildren and five great-grandchildren.