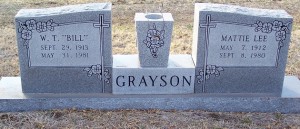 Location: P-Higginbotham
Born: May 7, 1912 Elk, McLennan County, Texas
Died: September 8, 1980 Waco, McLennan County, Texas
Daughter of D. W. and Gertrude Freeman Stanford
Parents:
Davis Wilding Stanford (1881 – 1927)
Gertrude Preston Stanford (1886 – 1942)
Spouses:
Willie Mike Yankie (1910 – 1956)
Willie Terrell Grayson (1913 – 1981)
Children:
Bennie Mack Yankie (1934 – 1993)
Warren Alvin Yankie (1936 – 1976)
Mrs. Mattie Grayson, 68, of Waco, died Monday morning in a local
hospital.
Graveside services will be at 2:30 p.m. today ( Sept. 9, 1980) at China Spring Cemetery, the Rev. Bob Wimberley officiating. Mrs. Grayson was born in Elk and attended schools in Salado. Sme married W. T. (Bill) Grayson in 1949. Before moving to Waco, the couple lived in China Spring.
Mrs. Grayson was a Baptist.
She was preceded in death by a son, Warren A. Yankie.
Survivors include her husband; son, Bennie Mack Yankie of Pursley; brother, Walter Sanford of Temple; and three grandchildren.