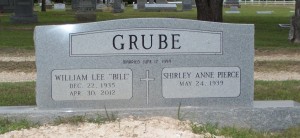 Location: K-Jay
Born: December 20, 1935 Falls County, Texas
Died: April 30, 2012 Waco, McLennan County, Texas
Son of William A. and Louise Schroeder Grube.
Husband of Shirley Anne Pierce Grube
Parents:
William August Grube (1897 – 1979)
Louise Schroeder Grube (1901 – 1962)
William "Bill" Grube, 76, of Waco, passed away Monday, April 30, 2012, at Providence Hospital. Services will be 11 a.m., Thursday, May 3, at Wilkirson-Hatch-Bailey with the Reverend Reed Justus officiating. Burial will follow at China Spring Cemetery. Visitation will be 6 to 8 p.m., Wednesday, May 2, at Wilkirson-Hatch-Bailey Garden Room.
Bill was born in Falls County, Texas, to the late William A. and Louise Schroeder Grube. He graduated from Riesel High School in 1954 and attended Baylor University. He proudly served his country in the United States Marine Corps in the 9th Regiment of the 3rd Marine Division in Japan and Okinawa. Bill married Shirley Anne Pierce in China Spring, Texas, on June 12, 1959, and they lived for many years in China Spring. He served his community as a member of the China Spring ISD School Board. He was a member of the George N. Denton Masonic Lodge of Waco and of the China Spring United Methodist Church. He was employed for 41 years at Southwestern Bell/AT&T. After his retirement, he and Shirley enjoyed foreign and domestic travel and attending Baylor Lady Bears basketball games. Bill also enjoyed serving as a volunteer with Meals on Wheels and managing his real estate holdings. Bill will be remembered as a loyal, loving husband, father and grandfather, and a true friend to everyone who knew him.
He was preceded in death by a brother, Wilburn Grube.
Bill is survived by his wife of 52 years, Shirley; daughters, Betty Jane Kiowski and husband, Mark, of Plano, and Laura Anne Meredith and husband, Clint, of Waco; grandchildren, Katherine Anne Kiowski and Luke William Kiowski, of Plano and Elizabeth Anne Meredith, of Waco; sister, Lucile Itson, of Waco; brothers, Wesley Grube, of Waco, and John Grube, of Groesbeck; and many other family members and numerous friends.