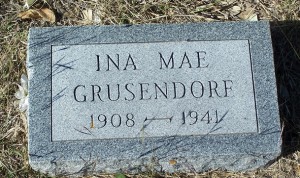 Location: E-Burt
Born: May 8, 1908 McLennan County, Texas
Died: July 5, 1941 Bellmead, McLennan County, Texas
Parents:
James Milton Talbert (1879 – 1919)
Mattie Edna Harrison Talbert (1885 – 1935)
Mrs. Ina Mae Grusendorf, 33, died Saturday afternoon at her home in Bellmead.
Funeral services will be held at 3 p.m. Sunday at Compton's Chapel, Rev. W. E. Floyd and Rev. C. A. Thornal officiating. Burial will be in China Spring Cemetery.
Surviving are her husband, George Grusendorf; daughter, Peggy Lynns of Waco; sister, Mrs. F. L. McCoy of Bellmead.