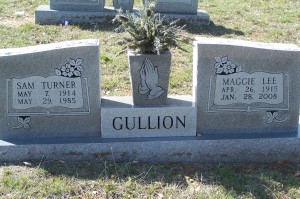 Location: V-Eichelberger
Born: May 7, 1914 Red River County, Texas
Died: May 29, 1985 Waco, McLennan County, Texas
Parents:
James S Gullion (1886 – 1970)
Celia Turner Gullion (1889 – 1975)
Spouse:
Maggie Lee Reed Gullion (1915 – 2008)
Sam T. Gullion, 71 of Waco died Wednesday in a local hospital.
Services will be at 10 a.m. Friday at Wilkirson-Hatch Funeral Home Chapel, the Rev. Bert Mercer and H. C. Smithson officiating. Burial will be in China Spring Cemetery.
Mr. Gullion was born May 7, 1914 in Red River County. He attended school in Clarksville and married Maggie Lee Reed in 1937. He moved to Waco in 1958. He was a manager of two Waco Piggly Wiggly stores before retiring in 1979. He was a member of Lake Shore Church of Christ.
Survivors include his wife; two sons, Billy Sam Gullion of Waco and Stephen Ray Gullion of Houston; two sisters, Nannie Ruth Walker and Louise Ham, both of Clarksville; and five grandchildren.