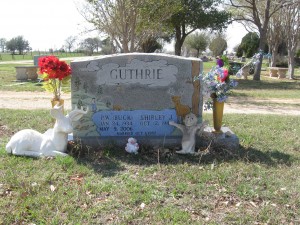 Location: V-Eichelberger
Born: January 24, 1934 Crawford, McLennan County, Texas
Died: May 9, 2006 China Spring, McLennan County, Texas
Parents:
Pinkney Weaver Guthrie (1896 – 1971)
Vera Lena Guthrie (1903 – 1980)
Spouse: Shirley JoAnn Ledergerber Guthrie
P.W. "Buck" Guthrie, 72, of China Spring, passed away on Tuesday, May 9, 2006. Services will be at 1 p.m., Friday, May 12, at BrookView Funeral Chapel with Pastor Greg Moore officiating. Burial will follow at China Spring Cemetery. Visitation with family and friends will be from 6 to 8 p.m., Thursday, May 11 at the funeral home
Buck was born in Crawford, Texas, to the late Pinkney and Vera Guthrie. He was an outdoorsman who enjoyed hunting, fishing, and riding his Harley.
Buck was preceded in death by his sisters, Wanda Kolb, Vergie Zilka, Margaret Guthrie, and Dorothy Smith; and brother, Lloyd Guthrie.
Survivors include his loving wife, Shirley Guthrie; son, Johnny Guthrie and Neeley children, Jonda and Tracen; daughters, Elizabeth Guthrie-Nail and Craig; granddaughters, Kristan and Katie; Rita Faye Guthrie and son Jacob; grandson, Brandon John Guthrie; sisters, Mary Brunson, Rose O'Neal, and Billie Kearney; and brother, Donald Guthrie.