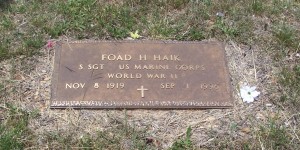 Location: W-Drahn
Born: November 8, 1919 Waco, McLennan County, Texas
Died: September 1, 1995 Waco, McLennan County, Texas
Parents:
Halem Mitchell Haik (1887 – 1975)
Mary Bashara Haik (1892 – 1958)
Foad Haik of Waco, 76, died Sunday, September 1 at a local hospital.  Graveside services will be at 2:30 p.m. Tuesday at China Spring Cemetery.  The family will receive visitors 6 to 8 tonight at BrookView Funeral Home.
Mr. Haik was born November 8, 1919, in Waco, Texas.  He served in the Marine/Air Corp in the South Pacific during World War II as a Tail Gunner SBD.  He was a lifetime member and past president of the Waco Syrian Association, a member of the VFW 2148 and a member of the Lee Lockwood Lodge.  He was retired from the Post Office.  He owned and operated the Produce Patch on North 18th.
He is survived by his wife, Hazel Haik; daughters, Paula Sais and Rebecca Haik; son, Bill Newman; sister, Christine Dishner; four grandchildren; and four great-grandchildren.