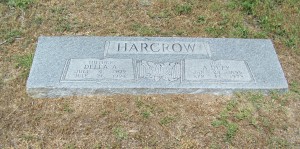 Location: G-Ferguson
Born: July 4, 1909 Knox County, Texas
Died: July 26, 1994 Cuero, DeWitt County, Texas
Parents:
Alonzo Jackson Smith (1882 – 1962)
Mamie Morrison Smith (1890 – 1980)
Spouse:
Duey Harcrow (1899 – 1973)
Children:
Samuel J. Stringer (1930 – 2005)
Geneva Ann Stringer Carson (1933 – 2013)
Charles Scott Stringer (1938 – 1939)
John Thomas Harcrow (1949 – 2010)
Della Ann Smith Harcrow of Cuero, formerly of Waco, died Tuesday in Cuero. She was 85.
Funeral services will be at 11:30 a.m. today at Connally-Compton West Chapel, Chaplain Curtis Holland officiating. Burial will be in China Spring Cemetery.
Mrs. Harcrow was born July 4, 1909 in Knox County. She married Duey Harcrow in Marlin; he died April 15, 1973. She was a member of the First Presbyterian Church.
She was preceded in death by her husband and two sons, Charles Scott Stringer and Billy Jack Stringer.
Survivors include four sons, Sammy Stringer of Midland, Lilton R. Stringer of Waco, William Everett Harcrow of Cuero and John T. Harcrow; daughter, Geneva Carson of Big Spring; brother, Bill Smith of Robinson; 10 grandchildren; and 15 great grandchildren.