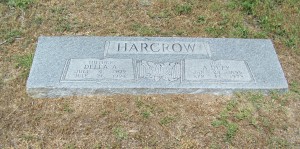 Location: G-Ferguson
Born: January 23, 1899 Hunt County, Texas
Died: April 13, 1973 Waco, McLennan County, Texas
Son of John Thomas Harcrow and Sarah Jane Cannon Harcrow
Parents:
Sarah Jane Cannon Harcrow (1868 – 1951)
Spouse:
Della A Smith Harcrow (1909 – 1994)
Duey Harcrow, 74 of Waco, died Friday morning in a local hospital.
Funeral services were held at 10 a.m. Monday at Connally Compton Downtown Chapel, R. C. Wylie officiated, burial in China Spring Cemetery.
Survivors include his wife, Mrs. Della Harcrow; two sons, John Harcrow of Waco and William E. Harcrow of Bryan; step-daughter, Mrs. Geneva Carson of Big Springs; three step-sons, Sammy Stringer of Midland, Billy Jack Stringer of Arizona and Lilton Ray Stringer of Presidio; sister, Mrs. Gertrude McCollum of Odessa; brother, Arthur Harcrow of Elm Mott and one granddaughter.