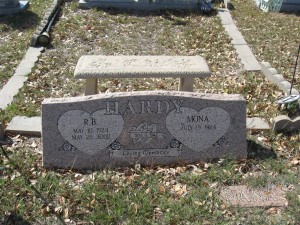 Location: V-Eichelberger
Born: May 10, 1924 Dawson, Navarro County, Texas
Died: May 25, 2002 Waco, McLennan County, Texas
Parents:
Burty Elmer Hardy (1902 – 1944)
Lorine Berry Hardy-Prater (1904 – 1951)
R. B. Hardy, 78, of China Spring passed away Saturday, May 25, 2002 at Hillcrest Baptist Medical Center.
Funeral services will be at 11 am Tuesday, May 28 at OakCrest Funeral Home Chapel with the Rev. Allen Grant officiating. Burial will follow at China Spring Cemetery. Visitation will be from 6 to 8 pm Monday at OakCrest Funeral Home.
R. B., also known as PaPa ABC, was a longtime resident of China Spring. He was born May 10, 1924 in Dawson. He married Mona Perkins on November 3, 1942 and they remained faithful partners in life for nearly 60  years. He was a successful farmer and quarter horse trainer. He was a member of China Spring United Methodist Church, a charter member of Production Credit Association, member of the China Spring School Board for several years and helped start the China Spring Volunteer Fire Department.
He was preceded in death by his parents, B.E. Hardy and Lorine Berry Hardy; brothers, Olin Ray Hardy and Billy Clyde Hardy and a daughter in law, Sandra Hardy.
He is survived by his wife, Mona of China Spring; son, Rex Hardy of China Spring; daughter, Sharon Harding and husband David of Muskogee, Okla., grandchildren, Richard Hardy, Wendy Hardy and Mandi (Bryan) Bronstad; great grandchildren, Brittany, Bethany, and Ty Hardy and Austin Bronstad; sister, Frances Vanderhoenen of California and sister-in-law, Mozelle Hardy Calvery of Waco.
Honorary pallbearers will be Wilford "Bud" Waisatch, Britt Villines and Buddy Roberts. Pallbearers will be Charles Lindsey, Larry Meinzer, Floyd Dekle, David Harding, Robert Perkins and Lee Percivill.
Memorials may be made to the China Spring Volunteer Fire Department of China Spring United Methodist Church.