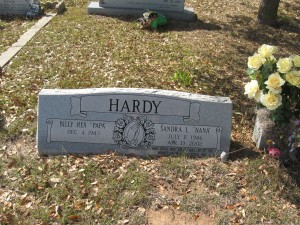 Location: V-Eichelberger
Born: July 11, 1946 Mexia, Limestone County, Texas
Died: April 19, 2002 China Spring, McLennan County, Texas
Daughter of Hubert and Bonnie O. Richardson Ingram
Parents:
Bonnie Othel Richardson Ingram (1925 – 2009)
Spouse: Rex Hardy
Mrs. Sandra Hardy of China Spring passed away April 19,2002 at her residence.
Services will be at 10:30 a.m. Monday, April 22 at China Spring United Methodist Church. Burial will follow at China Spring Cemetery.
Sandra was born July 11,1946, in Mexia to Bonnie and Hubert Ingram. She married Rex Hardy June 20, 1964 in China Spring. Sandra was active with United Methodist Church of China Spring, Bible Study Fellowship and Meals on Wheels. Having a passion and talent for flower design, she worked for several florists. As with her avocation, she brought special joy, love and devotion to her husband, children, family, friends and others whose lives she touched.
Survivors include her husband, Rex Hardy; son, Richard Hardy; daughter, Wendy Hardy, all of China Spring; three grandchildren; mother, Bonnie Ingram; sisters, Frances Ware of Bryan and Gail Hegar of Robinson; in-laws, R. B. and Mona Hardy, David and Sharon Harding, Tim Ware and David Hegar and a large extended family of aunts, uncles, cousins, nieces, nephews and special friends.