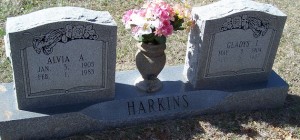 Location: U-Baker
Born: January 3, 1905 Valley Mills, Bosque County, Texas
Died: February 1, 1983 Waco, McLennan County, Texas
Parents:
Alvia Alex Harkins (1865 – 1940)
Elizabeth Miranda Young Harkins (1871 – 1959)
Spouse:
Gladys Ida Lechler Harkins (1901 – 1983)
Children:
Ida Mae Harkins Jones (1927 – 2000)
Alvia A. Harkins, 78, of Waco died Tuesday in a local hospital.
Services will be at 3 p.m. Thursday at Kotch Funeral Home Hillcrest Chapel, the Rev. Otis Watson officiating. Burial will be at China Spring Cemetery.
Mr. Harkins was born January 3,1905 in Valley Mills. He lived in Brownfield, where he was a farmer, until moving to Waco in 1943. He was a watchmaker and a Baptist.
Survivors include his wife, Gladys Harkins; three daughters, Mrs. Ida M. Jones and Mrs. Myrtle Singletary, both of Waco, and Mrs. Rube (Dorothy) Ozment of Beaumont; two brothers, Earl T. Harkins of Midland and Jack Harkins of California; 13 grandchildren; and 20 great-grandchildren.