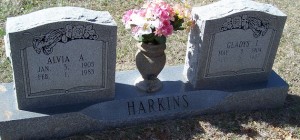 Location: U-Baker
Born: May 5, 1901 China Spring, McLennan County
Died: August 8, 1987 Waco, McLennan County, Texas
Parents:
Joseph Fred Lechler (1883 – 1927)
Dona Ada Smith Lechler (1877 – 1961)
Spouse:
Alvia A Harkins (1905 – 1983)
Children:
Ida Mae Harkins Jones (1927 – 2000)
Mrs. Gladys Ida Harkins,83, of Waco died Saturday morning in a Waco hospital.
Graveside services will be 2:30 p.m. Monday at China Spring Cemetery, the Rev. Ivan Ker officiating.
Mrs. Harkins was born May 5, 1904 at China Spring. She lived in Brownfield before moving to Waco in 1944.
She was a Baptist. She was married to Alvia Harkins; he died February 1, 1983.
Survivors include three daughters, Ida Jones and Myrtle Puryear, both of Waco and Dorothy Ozment of Beaumont; four brothers, Joe Lechler, Alphus Lechler, Chet Lechler and Leslie Lechler, all of Waco; sister, Mary Bridger of Waco; 12 grandchildren; and 27 great-grandchildren.