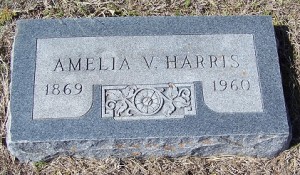 Location: D-Ladd
Born: October 20, 1869 Alabama
Died: February 13, 1960 China Spring, McLennan County, Texas
Daughter of John Cobern and Susan M.  Shirley Cobern
Parents:
Susan M Shirley Rollo (1846 – 1930)
Spouse:
John Wesley Harris (1851 – 1916)
Children:
Johnnie B Harris (1896 – 1953)
Annie Lee Harris Saunders (1897 – 1982)
George Primm Harris (1901 – 1964)
Mrs. J. W. Harris died at her home in China Springs Saturday morning. She was 90.
Funeral services will be held at 3 p.m. today at the China Spring Methodist Church, Rev. William H. Cole and Rev. Richard Ivey officiating, burial in China Spring Cemetery.
Mrs. Harris was born in Alabama and came to Texas when she was about seven years old. She lived in the China Spring area most of her life.
Survived by a son, Primm Harris of Waco; daughter, Mrs. R. L. Saunders of China Spring; a sister, Mrs. Bernice Butler of Los Angeles, California; four grandchildren and eight great-grandchildren.