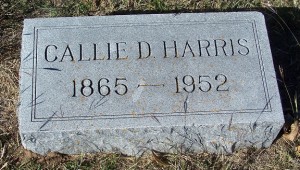 Location: M-Harris
Born: January 23, 1865 China Spring, McLennan County, Texas
Died: August 29, 1952 China Spring, McLennan County, Texas
Parents:
Posey Whitten Irwin Seago (1839 – 1883)
Seppia Catherine Hanes Seago (1842 – 1878)
Spouse:
George Pierce Harris (1856 – 1929)
Mrs. G. P. (Aunt Callie) Harris, 87, of China Spring died at her home Friday afternoon.
Funeral services will be held at the China Spring Methodist Church at 5 p.m. Sunday, Rev. H.  DeWitt Seago of Abilene and Rev. H. C. Funderbunk officiating, burial in China Spring Cemetery.
Mrs. Harris had lived in China Spring all her life. She had lived 65 years in the house in which she died. She was the widow of the late G. P. Harris of China Spring.
Survivors: daughter, Mrs. L. A. Worsham of Adrian; three grandchildren and one great-grandchild.