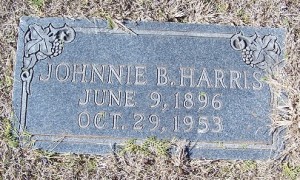 Location: D-Ladd
Born: June 9, 1896 McLennan County, Texas
Died: October 29, 1953 China Spring, McLennan County, Texas
Parents:
John Wesley Harris (1851 – 1916)
Amelia Viola Cobern Harris (1869 – 1960)
Miss Johnnie B. Harris, 57, died Thursday morning at her home in China Spring.
Funeral services were held at 3 p.m. Friday at the China Spring Methodist Church, Rev. Paul Hopkins and Rev. C. E. Wade officiating, burial in China Spring Cemetery.
Survivors: her mother, Mrs. J. W. Harris of China Spring; brother, Primm Harris of Waco; two sisters, Mrs. R. L. Saunders and Mrs. Jessie Gregory, both of Waco; four nieces and two nephews.
Miss Harris was the China Spring postmistress for many years.