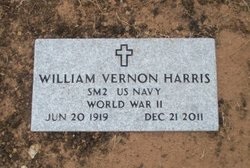 Location: V-Eichelberger
Born: August 22, 1922 Mud Springs, Kinney County, Texas
Died: December 19, 2011 China Spring, McLennan County, Texas
Parents:
William Buford Harris (1895 – 1987)
Eula Jane Cooper Harris (1898 – 1977)
Spouse:
Iva Mae Offield Harris (1924 – 2016)
Children:
William Charles Harris (1945 – 1995)
William "Bill" Vernon Harris, 92, of China Spring, passed away Wednesday, Dec. 21, 2011, at his residence. Services will be 2 p.m. Saturday, Dec. 24 at OakCrest Funeral Home with burial following in China Spring Cemetery. Visitation will be 5 to 7 p.m. Friday at OakCrest Funeral Home, Waco.
Bill was born in Mud Springs, Texas, to the late William B. and Eula Jane (Cooper) Harris. He married Iva Mae Offield, in the school house at Rogers, Texas, on Aug. 12, 1941. During World War II, he proudly served in the Merchant Marines and U.S. Navy. Afterwards, he worked at General Tire in Waco until the early 1970s when he became a partner in Bunn & Harris Tire Company in downtown Waco. Later, he became the sole owner and operated the business as Bill Harris General Tire Co. until the 1990s when he retired. Besides a successful business leader, Bill was a member of the Shriners, VFW, Masons, and American Legion. On the weekends, he enjoyed being a gentleman farmer who loved gardening. He also liked to travel with his wife on many trips together.
Bill was preceded in death by a son, William Charles Harris; and his brother, Melvin T. Harris.
Bill is survived by his wife of 69 years, Iva, of China Spring; grandchildren, William F. Harris and fiancée, Jamie Deich, of Richardson, and Rebekah Creamer and husband, Sam, of Houston; sister-in-law, Ruby Harris, of China Spring; daughter-in-law, Edna Howland and husband, David, of China Spring; and many other family members and friends.