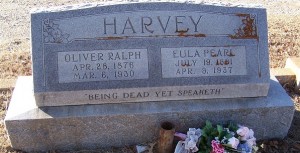 Location: K-Jay
Born: July 19, 1881 McLennan County, Texas
Died: April 9, 1937, Waco, McLennan County, Texas
Daughter of Matthew T. and  Sarah Ellen Thomas Bettis
Her mother died before 1900 and her Dad married Martha in 1900.
Parents:
M T Bettis (1852 – 1916)
S E Bettis (1855 – 1894)
Spouse:
Oliver Ralph Harvey (1876 – 1930)
Children:
Ralph Bettis Harvey (1912 – 2001)
John Stephen Harvey (1915 – 1983)
Oliver Raymond Harvey (1917 – 1996)
James Claude Harvey (1921 – 1923)
Funeral services for Mrs. Eula Pearl Harvey, 55, of China Spring who died Friday night in a Waco hospital, were held from China Spring Baptist Church at 3 p.m. Saturday, Rev. R. A. Scranton of China Spring and Rev. J. H. McClain of Ballinger, officiating, burial in China Spring Cemetery.
Surviving are five sons, Ralph, Raymond and Harold, of China Spring, John S. of Waco, and Gene of Lubbock; three sisters, Mrs. Jeff Higginbotham of Valley Mills, Mrs. A. E. Thompson of Yoakum, and Mrs. J. H. McClain of Ballinger; her step-mother, Mrs. M. T. (Martha) Bettis of Waco; brother, J. M. Bettis of Waco.