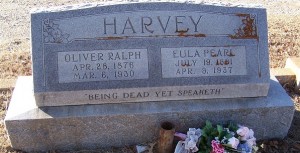 Location: K-Jay
Born: April 28, 1876 Texas
Died: March 6, 1930 China Spring, McLennan County, Texas
Parents:
Stephen Wells Harvey (1849 – 1919)
Mary Jane Barrett Harvey (1854 – 1930)
Spouse:
Eula Pearl Bettis Harvey (1881 – 1937)
Children:
Ralph Bettis Harvey (1912 – 2001)
John Stephen Harvey (1915 – 1983)
Oliver Raymond Harvey (1917 – 1996)
James Claude Harvey (1921 – 1923)
The body of Oliver R. Harvey, a China Spring farmer who died Thursday, was buried Friday afternoon at China Spring Cemetery following funeral services in the China Spring Baptist Church, with Revs. B. O. Herring and Kermit Melugin officiating.
Mr. Harvey was found dead at his barn Thursday morning by Mrs. Harvey. He had been in ill health for some time.
Besides his widow he is survived by five sons, Ralph, John S, Raymond, Eugene and Harrell; his mother, Mrs. Mamie Harvey; and two sisters, Miss Pearl Harvey and Mrs. P. T. Cuchia, all of Waco.