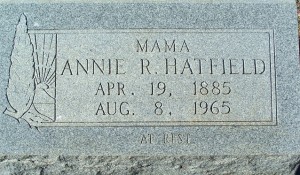 Location: Q-McLennan
Born: April 19, 1885 USA
Died: August 8, 1965 Waco, McLennan County, Texas
Parents:
Edmund Kimbrough Maury (1851 – 1939)
Spouse:
Arch Gann Hatfield (1880 – 1942)
Children:
Clinton Allen Hatfield (1905 – 1946)
Edward Kimble Hatfield (1907 – 1990)
Nannie Ree Hatfield Granger (1908 – 2000)
Edna Hatfield Jackson (1910 – 2010)
William Earl Hatfield (1912 – 2006)
Mrs. Annie R. Hatfield, 80, of Waco, died at 8:45 a.m. August 8 in a Waco hospital.
Funeral services were held Monday at 2:30 p.m. in Waco. Rev. W.E. Harrell and Rev. Charles Rice officiated with burial in China Spring Cemetery.
Survivors include three daughters, Mr. R. C. Granger of China Spring, Mrs. Edna Cantrell of Waco, and Mrs. Lloyd Reed of Valley Mills; two sons, W.E. Hatfield and E.K. Hatfield, both of Waco; two sisters, Mrs. J.E. Carpenter of China Spring and Mrs. Cleon Warren of Hewitt; six grandchildren and nine great-grandchildren.
Active pallbearers were A.E. McDonald, Morgan Hatfield, Joe McFall, Harry Maury, Gilbert Maury, and O.D. Walker.