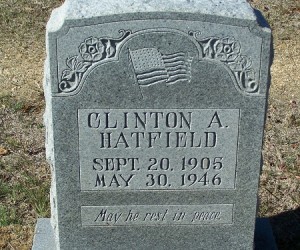 Location: Q-McLennan
Born: September 24, 1905 McLennan County, Texas
Died: May 30, 1946 China Spring, McLennan County, Texas
Parents:
Arch Gann Hatfield (1880 – 1942)
Annie R Maury Hatfield (1885 – 1965)
Clinton Allen Hatfield, 40, died at his home in China Spring Thursday.
Funeral services were held at the China Spring Methodist Church at 3 p.m. Friday, Rev. C.E. Wade officiating. Burial in China Spring Cemetery.
Survivors: his mother, Mrs. Annie Hatfield; two brothers, E. K. Hatfield and W. E. Hatfield; three sisters, Mrs. Allan McMurrian of Waco and Mrs. R. C. Granger of China Spring; Mrs. Lloyd Reed of Valley Mills.
Mr. Hatfield was a disabled veteran.
Pallbearers: L. L. Hutto, Claude Mabray, Andrew Garret, S. B. Ferguson, Morgan Hatfield and B. A. Crawford.
Honorary pallbearers: H. F. Ledenham, U.P. Melton, T. N. Curton, Will Davis, Buddie Thomas, Roy Garrett, Jim Carpenter, Dr. A. M. Long and O. N. McCann.