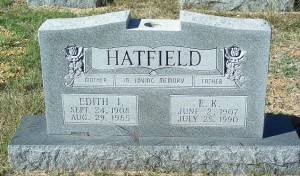 Location: Q-McLennan
Born: June 2, 1907 McLennan County, Texas
Died: July 25, 1990 Waco, McLennan County, Texas
Parents:
Arch Gann Hatfield (1880 – 1942)
Annie R Maury Hatfield (1885 – 1965)
Spouse:
Edith I McDonald Hatfield (1908 – 1985)
Edward Kimble (E.K.) Hatfield, 83, of Waco died Wednesday at his home.
Services will be at 1:30 p.m. today, July 27, 1990, at Connally-Compton West Funeral Home Chapel. Burial will be at China Spring Cemetery.
Mr. Hatfield lived in the Waco, China Spring and Valley Mills area most of his life. He was retired from General Tire and Rubber Co.
Survivors include two daughters, Mrs. David W. Holland of Fort Worth and Earldean Korengay of Waco; son, Gary Hatfield of Valley Mills; brother, W. E. Hatfield of Waco; two sisters, Edna Jackson of Waco and Mrs. Cecil Granger of Wortham Bend; nine grandchildren;and six great grandchildren.