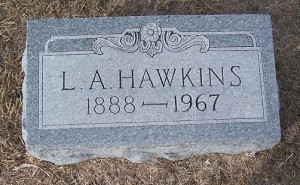 Location: E-Burt
Born: March 17, 1888 Speegleville, McLennan County,Texas
Died: June 27, 1967 Waco, McLennan County,Texas
Daughter of James O. Hawkins and Rebecca Brown Hawkins
Her date of birth does not appear to be correct…census record for 1880 shows she was already born, and would have to be have been born in 1877, the last child of James and Rebecca, as Rebecca died in childbirth with her according to a family history. James is shown as widowed on the 1880 census, and is still widowed on the 1900 census.
Parents:
James Owen Hawkins (1833 – 1924)
Funeral services for Miss Lula Alice Hawkins will be at 4 p.m. today in Connally Funeral Chapel with burial in China Spring Cemetery.
Miss Hawkins of 911 North Eleventh Street died at 5:50 p.m. Tuesday in a Waco hospital after a short illness.
Miss Hawkins was born March 17, 1888 in the Speegleville community.  She had lived in the China Spring community since 1907.
Surviving are three nieces and two nephews.