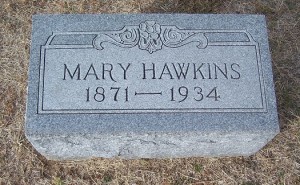 Location: E-Burt
Born: December 18, 1871 Tennessee
Died: December 18, 1934 China Spring, McLennan County, Texas
Daughter of James O. Hawkins and Rebecca Brown
Parents:
James Owen Hawkins (1833 – 1924)
Funeral services for Miss Mary Hawkins, 60, who died at her residence at China Spring Tuesday, at 7:15 p.m. will be held from the Methodist church at China Spring at 3 o'clock this afternoon with Rev. Albert G. Brown, the pastor, officiating. Interment will be in the China Spring cemetery, with the Compton's in charge.
Miss Hawkins is survived by one brother, O.M. Hawkins and a sister, Miss Alice Hawkins, both of China Spring. The deceased was born and reared in McLennan County and had lived there all her life.
Waco Times-Herald, 12-18-1934.