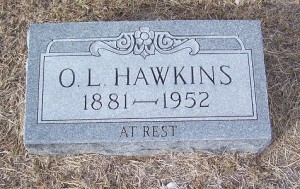 Location: E-Burt
Born: February 11, 1881 China Spring, McLennan County, Texas
Died: December 30, 1952 China Spring, McLennan County, Texas
Son of James O & Rebecca Brown Hawkins
If he is the son of James and Rebecca, then he was born in 1875, because his mother died prior to 1880. His Dad shows up on the 1880 census as widowed, and Rebecca died in childbirth giving birth to Alice. All of the children's year of birth seems to be skewed except for Ida's.
Parents:
James Owen Hawkins (1833 – 1924)
Funeral services for Owen Lea Hawkins, 71, of China Spring were scheduled for 3 p.m. Wednesday at the China Spring Methodist Church.
Mr. Hawkins, a retired farmer, died at his home in China Spring Tuesday evening. Mr. Hawkins was born in China Spring and had lived there all his life.
He is survived by one sister, Miss Alice Hawkins of China Spring; and several nieces and nephews.